The pumpkin seeds hulling machine is a very important invention in our company and pumpkin seeds hulling machine not only can hull, dust, clean, but also of metering and packing. The hulling machine can improve the efficiency of seed hull for production. The seed hulling machine is a horizontal placement of the conveying pipe, in succession to the pipe end of the hair dryer, in succession to the conveying pipe on the other end of the crash box, seed in impact box and between the hair dryer is conveying pipe at the middle of the input pipe, hit the box have a and by the hair dryer blowing into the air driven seed movement direction perpendicular to the wall impingement. And thus seed collision to hit the wall and seeds from the impinging wal Bounce back collide with each l other in to order achieve the purpose of dehulled seeds.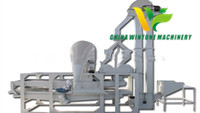 Pumpkin seeds hulling machine features:
1. The wet shelling
2. Through the improvement of the sheller, the crushing efficiency is high and the nuts hulling rate is lower.
3. The application of cyclic shelling, shelling is not automatically enter the next grain hulling cycle.
4. In the collection and processing of leather, with vibration pressure selective replace blown skin, reduces the generation of dust.
5. The increase of the sieve process and screening area, the kernel can effectively reduce the broken screen, Ren returns caused by shelling machine,
6. And by changing the sorting sieve, processing of different specifications white seeds.
7.The compact structure, low consumption, easy operation and maintenance etc.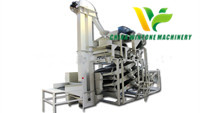 Hulling separating unit will be through the classification of pumpkin seeds, pumpkin seeds, watermelon seeds, melon seeds, melon seeds, snakegourd seed and gourd seed were shelling, in addition to skin, separation, which once not to uncouple the grain can automatically return sheller for shelling again, until the uncoupled so far. Due to the adoption of the first grade after shelling way, so the hulling separation effect is very good, high efficiency.